FEATURE | Posted Aug. 29, 2018
A new life with Parkinson's
For Len Monaco, deep brain stimulation helped when medications couldn't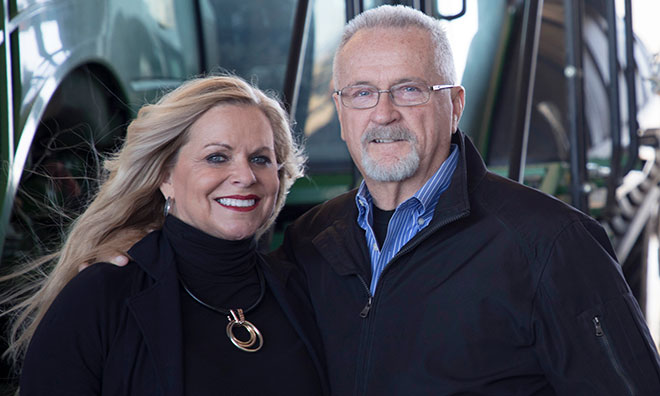 Len Monaco and his wife, Lori, are planning an international trip — something they can do now that his Parkinson's is treated with deep brain stimulation.
If someone described Len Monaco in one word 10 years ago, it would be "tough."
But that changed when the U.S. Marine Corps veteran, fitness fanatic, father of two and retired agricultural banker found out he had Parkinson's disease.
"Over time, Parkinson's shrinks your body and your voice and takes away your smile," Monaco said. "The fatigue was bone-crushing, but I couldn't sleep. I found myself getting anxious about things that never used to bother me. It took all I had just to get through the day."
Today, a year-and-a-half following a surgical treatment known as deep brain stimulation, or DBS, Monaco said he has "a life again."
Parkinson's occurs when brain cells die that release dopamine — a chemical necessary for effective brain-to-muscle cell signaling — causing the disease's hallmark symptoms of movement slowness, rigidity, tremors and balance problems.
Medications can help, however they don't always work long term. As symptoms progress and doses increase, the side effects can become intolerable.
"It gets to the point where it's difficult for patients to tell if their symptoms are related to their medications or Parkinson's," said Kia Shahlaie, a neurological surgeon with the UC Davis Health Deep Brain Stimulation Program. "We talk about DBS with every patient who is interested in a more technological approach to their treatment."
For most patients, he added, that conversation typically occurs 8 to 12 years after diagnosis.
During the procedure, Shahlaie implants a small device in the patient's chest that delivers electrical stimulation to electrodes in the subthalmic nucleus of the brain, a major control center for muscle movement. The stimulation levels are adjusted as needed by the patient and during regular clinic visits.
For Monaco, DBS has more fully reduced his symptoms.
"I now take half the medications I used to," he said.
Monaco now teaches management skills to the new generation of leaders in his field and does something he never thought he'd be able to do again — travel internationally. Since his surgery, he and his wife, Lori, have been to Italy, Scotland, Quebec and, soon, Paris.
"Who at 71 with Parkinson's gets to do this?" Monaco asked. Then he smiled and said, "Oh yeah, I do."
---
Patients with essential tremor, dystonia or Parkinson's can be considered for DBS at UC Davis Health, where a team of neurological surgeons and neurologists work together on assessments and treatment plans. The clinic also hosts a monthly support group for DBS patients and those considering the procedure. For information, visit the program website or call 916-734-3588 and ask for the DBS coordinator.
---
Related stories
UC Davis Health tests deep brain stimulation as a treatment for cognitive changes in Parkinson's
Nationally prominent brain tumor specialist to lead neurological surgery at UC Davis
Neurosurgeons on the football sidelines
Read other feature stories